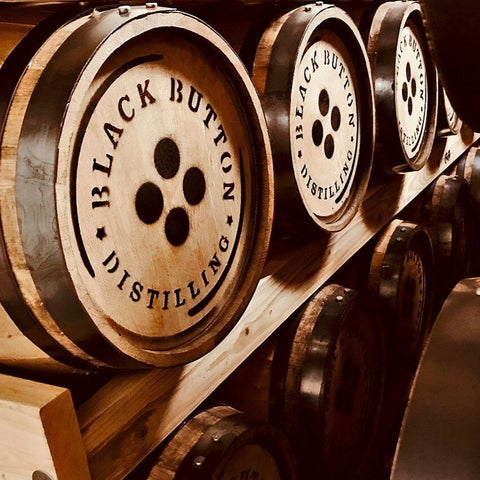 A new distillery has opened in the center of Rochester, New York, and it offers a fascinating spin on tradition and innovation. Jason Barrett's Blackbutton Distillery stands out not only for its superb American artisan whiskey, but also for its fascinating history. Barrett, who was born into a family famous for their button manufacturing, became interested in distilling due to his color blindness. His efforts paid off, and his brand is today beloved by connoisseurs of fine whiskey throughout the world.

The Color Blind Connection
Jason Barrett developed a profound respect for his family's history and skill as he watched the button business grow up around him. Unfortunately, he also inherited a form of color blindness that would prevent him from carrying on the family business. Barrett, unfazed by the failure, started off on a mission to find outlets for his imagination.

Blackbutton Distillery's Early Days
Barrett's desire to leave his stamp on the world of distilling was fueled by his love of spirits and the long history of American whiskey. He established Blackbutton Distillery in 2012 with the goal of creating premium craft whiskey that would satisfy the most discerning whiskey drinkers.

Crafting Excellence
In a short amount of time, Blackbutton Distillery earned a reputation for excellence thanks to its dedication to quality and focus on detail. Barrett's inability to perceive color turned out to be an advantage rather than a disadvantage; without visual cues, he was free to focus solely on the whiskey's scents, flavors, and textures. This sensory edge helped him produce a line of unique and highly acclaimed liquors.

The Rise to Popularity
Blackbutton Distillery's excellent American artisan whiskey gained widespread attention and a devoted following among drinkers in search of something really original. Blackbutton Four Grain Bourbon, the distillery's first offering, won over customers with its nuanced personality, silky texture, and well-rounded taste. This bourbon, made from a mash of corn, wheat, rye, and malted barley, demonstrated Barrett's skill as a distiller and laid the groundwork for the company's future growth.

Growth and Innovation
The distillery increased production and diversified its product line as demand for Blackbutton whiskey skyrocketed. Blackbutton Distillery has pushed the frontiers of flavor and complexity by using only locally obtained ingredients and by experimenting with novel grain combinations, cask finishes, and aging procedures.

The Blackbutton Distillery's Straight Bourbon was a game-changer, as its silky texture and well-rounded flavor won over connoisseurs. Single Barrel Reserve, a limited edition release personally selected by Barrett, highlighted the distillery's dedication to excellence by ensuring the highest standards of quality and character.

The innovative spirit of Blackbutton Distillery wasn't confined to its namesake spirit, whiskey. The distillery has responded to the rising demand for flavored spirits by introducing a range of artisanal craft liqueurs, such as apple pie moonshine, citrus-forward limoncello, and a luxury coffee liqueur.

Recent Expansion
Blackbutton Distillery has amassed a devoted fan base thanks to its steadfast dedication to quality and its ability to provide really one-of-a-kind experiences through its craft whiskeys. Barrett's enthusiasm, knowledge, and fresh perspective have all contributed to Blackbutton's rapid ascent.

Blackbutton Distillery has recently increased its production facilities in response to the rising demand for their remarkable whiskeys. The new facility has greater space for aging whiskey in oak barrels, so Blackbutton Distillery can provide more aged expressions with the depth and complexity sought by whiskey connoisseurs.

The distillery's success stems from its dedication to the local area and the quality of its goods. Blackbutton Distillery works closely with regional farmers, purchasing grains from them directly when possible. Customers and colleagues in the business community have both praised the company for its commitment to sustainable practices and community collaboration.
The reach of Blackbutton Distillery's influence extends much beyond the area in which it is based. The distillery has solidified its position as a significant player in the American craft whiskey market thanks to the multitude of awards that it has received. Blackbutton spirits are highly coveted by whiskey aficionados all over the world due to the fact that they feature singular flavor characteristics and are produced to an exceptionally high standard.

The accomplishments of Blackbutton Distillery serve as a shining example of the significance of pursuing one's goals, remaining true to one's beliefs, and being comfortable with one's own uniqueness. In what was once thought of as a limitation, Jason Barrett's color blindness turned out to be the impetus behind the creation of exceptional whiskies that stood out from the competition in a crowded market.

The Blackbutton Distillery has their sights set on pushing the limits of what is possible in terms of American craft whiskey long into the foreseeable future. Because of its dedication to quality and the expertise of its craftspeople, the distillery is always producing and releasing new whiskeys that push the limits of the spirit while at the same time enthralling drinkers.

The foresight, dogged determination, and creative thinking of Blackbutton Distillery's creator, Jason Barrett, are directly responsible for the company's success in the market for American craft whiskey. Barrett surmounted the challenges that were presented to him as a result of his color blindness in order to establish a distillery that has triumphed over the hearts and palates of whiskey enthusiasts all over the world. Blackbutton Distillery is a demonstration of how commitment and ingenuity can develop a one-of-a-kind business in the burgeoning spirits market. The distillery has recently expanded its operations and is continuing to make excellent whiskies.