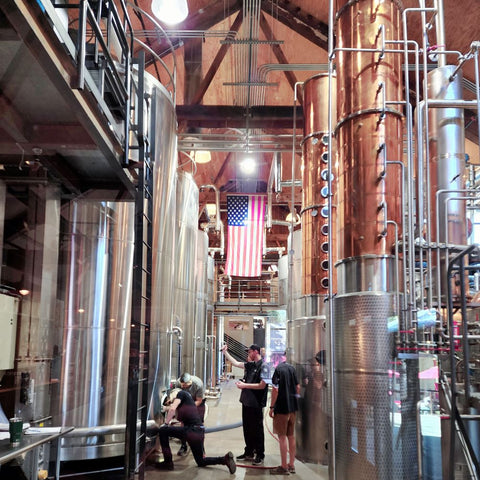 Recently we saw something very big happen in the world of whiskey, something particularly interesting to those who follow craft whiskey. Two of the largest and most successful craft distilleries in the US were acquired by large multinational drinks conglomerates, Kentucky's Wilderness Trail by Campari for a deal worth up to $600 million, and Texas Whiskey trailblazer Balcones by Diageo (the terms of the deal were not disclosed for this one). While there is a lot to be said about each acquisition, what has us at Blind Barrels excited about this news is that these are two of the most successful and innovative of the new wave of craft distilleries that are now in every state, and they are now being rewarded and recognized for being different.
Wilderness Trail has made a name for themselves with Sweet Mash, Non-Chill Filtered Kentucky Straight Bourbons and Ryes. Founded by fermentation experts Dr. Pat Heist and Shane Baker, the distillery has blown up over the last 10 years since it opened its doors in 2012. We visited in December of last year, and the sheer amount of warehouses dotting the landscape in Danville is so impressive. Shane and Pat also founded and run a company called FermPro that provides fermentation analysis and technical advice to other distilleries, and decided to parlay that knowledge into making whiskey of their own! But they didn't want to create just any new distillery; rather they used their insane knowledge of yeast to create a whiskey using the Sweet Mash method, diverging from the Sour Mash method that 99% of other whiskey distilleries use. The Sweet Mash method requires meticulous attention to detail in the distillation process, and it's very hands on, but the proof is in the pudding - it makes whiskey chock full of rich, fruity esters right from the start of their new make right off the still (which is delicious on its own, by the way). And they are just also really good people. Dr. Pat is a legit rock star (we've been fortunate enough to witness his vocals on stage), and he's been very supportive and excited about the Blind Barrels model in the conversations we have had with him.
The other newly acquired distillery is Balcones, who kicked off the Texas whiskey boom in 2008. Hailing from Waco, Texas, Balcones also is a beacon of innovation. They are at the forefront of the new American Single Malt Whiskey rage, and fully take advantage of their unique desert climate to have their own distinct take on American whiskey in general. Their first releases were made from 100% blue corn (the high quality kind typically used for food products like tortilla chips) and aged in tiny 5 gallon casks. Regardless of the conversations about the effect of different cask types on aged spirits, it can't be denied that they are willing to push the envelope to make whiskey that specifically represents their regionality as a state.
Even though both of these distilleries are very different, what really strikes us is that the larger drinks companies (you can think of Diageo as the Halliburton for beverage alcohol) are rewarding those companies who think differently and work to put out whiskey that isn't merely the "same-old same-old". We love finding the companies that aren't "safe", those who color outside the lines, or, even better, draw their own picture. Balcones spearheaded the whole category of "Certified Texas Whiskey", and Wilderness Trail's focus on yeast and the mashing process provides a roadmap for other distilleries to distinguish themselves. There are a host of other conversations to have about these deals, but we are happy that some of the foremost companies of the current whiskey renaissance are being recognized for the ways they are driving forward the innovation of the industry. 
We can't wait to see what comes next for American Whiskey, and we hope you'll join Blind Barrels on our journey of exploration!