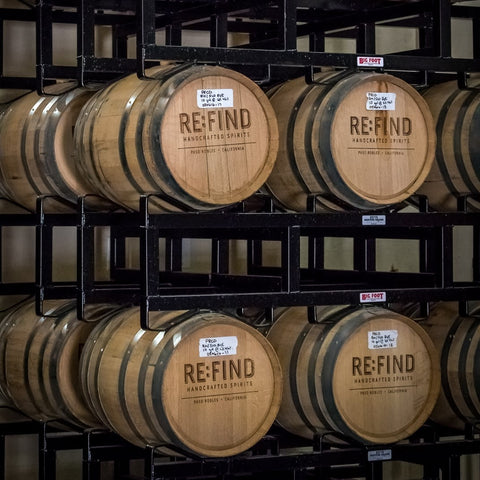 Paso Robles, California, is renowned for its picturesque vineyards and award-winning wineries, drawing wine enthusiasts from around the world. However, nestled among the rolling hills of this wine country, there's a hidden gem that whiskey connoisseurs won't want to miss – Re:Find Distillery. This boutique distillery is not only part of the growing Paso Robles whiskey trail but also showcases a unique fusion of wine expertise and American craft whiskey craftsmanship. In this article, we'll take a closer look at Re:Find Distillery, its history, offerings, and its recent success with its rye whiskey featured in the Blind Barrels September 2022 lineup.
A Unique Blend of Wine and Whiskey
Re:Find Distillery is the brainchild of Alex and Monica Villicana, who are no strangers to the world of fermentation and aging. Before venturing into whiskey-making, the Villicanas had already established themselves in the Paso Robles wine scene. This wine background would prove to be a crucial factor in their whiskey expertise.
Their journey into whiskey began with the realization that the distillation process shares certain similarities with winemaking. The art of fermentation, aging, and blending, which are integral to both wine and whiskey production, were skills that the Villicanas had honed over years of winemaking. Armed with this knowledge, they embarked on a new venture, determined to create American craft whiskey that would rival the best in the industry.
A Local Collaboration: The Firestone Walker Connection
One of the unique aspects of Re:Find Distillery's whiskey production is its partnership with a local brewery, Firestone Walker. Located in Paso Robles as well, Firestone Walker is celebrated for its exceptional craft beers, and it's here that Re:Find sources its distillate.
The collaboration with Firestone Walker is a testament to Paso Robles' thriving craft beverage industry, where breweries and distilleries come together to create exceptional products. The distillate from Firestone Walker serves as the foundation for Re:Find's whiskey, allowing them to craft unique and high-quality American craft whiskey.
Paso Robles Whiskey Trail: A Hidden Gem on the Trail
Paso Robles has long been recognized as a wine lover's paradise, but in recent years, it has emerged as an exciting destination for whiskey enthusiasts. The Paso Robles Whiskey Trail is a collection of distilleries, including Re:Find, that have been making waves in the world of American craft whiskey.
Visitors to Paso Robles can now embark on a whiskey adventure, exploring the craftsmanship and innovation behind each distillery's offerings. Re:Find Distillery stands out as a must-visit stop on this trail, offering a unique perspective on whiskey-making influenced by the region's rich wine heritage.
Re:Find Rye: A Blind Barrels Sensation
In September 2022, Re:Find Distillery made a significant impact on the whiskey scene when their rye whiskey was featured in the Blind Barrels lineup. Blind Barrels, a popular subscription service for whiskey enthusiasts, provides curated selections of fine whiskey for members to enjoy and discover.
Re:Find's rye whiskey quickly became a sensation in the Blind Barrels September 2022 lineup, captivating the palates of subscribers and earning widespread acclaim. Its inclusion was a testament to the distillery's commitment to producing exceptional American craft whiskey.
Tasting Re:Find Whiskey
One of the best ways to experience Re:Find Distillery's whiskey is by visiting their tasting room in Paso Robles. Here, you can immerse yourself in the world of craft spirits and gain insights into the intricate processes that produce their exceptional American craft whiskey.
The tasting room offers a warm and inviting atmosphere, perfect for savoring a flight of their diverse whiskey offerings. Whether you're a seasoned whiskey aficionado or just starting your whiskey journey, the knowledgeable staff at Re:Find will guide you through a tasting experience that highlights the nuances of their whiskey.
Exploring the Re:Find Whiskey Portfolio
Re:Find Distillery offers a range of whiskey expressions, each with its own distinctive character and flavor profile. Their commitment to quality and innovation shines through in every bottle. Some of the notable expressions you can discover include:
Re:Find Rye Whiskey: As showcased in Blind Barrels, this rye whiskey is a star in its own right. Expect a harmonious blend of spicy and fruity notes, making it an ideal choice for those seeking a well-balanced American craft whiskey.

Re:Find Wheat Whiskey: For a smoother and slightly sweeter experience, the wheat whiskey is an excellent choice. Its mellow character and hints of vanilla and caramel make it an easy sipper.

Re:Find Oat Whiskey: Oat whiskey brings a unique twist to the lineup, with a creamy texture and delightful notes of honey and toasted oats. It's a testament to the distillery's willingness to explore unconventional grains in whiskey-making.
In the heart of Paso Robles wine country, Re:Find Distillery has carved out a niche for itself in the world of American craft whiskey. Founded by wine enthusiasts with a deep understanding of fermentation and aging, Re:Find offers a unique perspective on whiskey-making, blending the artistry of wine with the craftsmanship of spirits.
Their collaboration with Firestone Walker and their recent success with Re:Find rye in Blind Barrels have further solidified their reputation as a distillery to watch. Whether you're a seasoned whiskey connoisseur or just beginning to explore the world of American craft whiskey, Re:Find Distillery invites you to embark on a tasting journey that celebrates the best of Paso Robles' craft beverage culture. Visit their tasting room and experience the magic of Paso Robles' hidden gem on the American Craft Whiskey Trail.