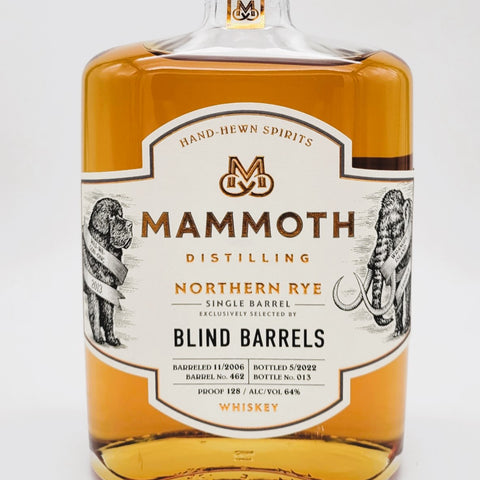 Introduction
Located in the picturesque town of Traverse City, Michigan, Mammoth Distilling is a leading light in the field of American craft whiskey. Mammoth takes great satisfaction in producing extraordinary whiskeys with a foundation founded in excellence, and they have earned a reputation for procuring aged Canadian rye ranging from nine to twenty-six years old. Mammoth's elaborate Rosen Project, which entails sowing experimental rye seeds and building anticipation among whiskey drinkers, is just as fascinating as their dedication to barrel aging. This article takes a deep dive into the fascinating history of Mammoth Distilling, the distillery's novel approach to sourcing aged Canadian rye, the Rosen Project's enduring mystique, and the distillery's 15-year rye finished in a Weller barrel, which was featured as a barrel pick in Blind Barrels' 2022 June lineup.
Aged Canadian Rye Whiskey
Mammoth Distilling's innovation is in the way they source their whiskey. They don't make their own spirit, but rather source aged Canadian rye, anywhere from nine to twenty-six years old, for the distillation process. This deliberation ensures that Mammoth's whiskey is founded on the complex tastes that can only come from being aged.
Mammoth's use of matured Canadian rye is a tribute to the global nature of whiskey making. Canadian rye is the blank slate upon which Mammoth's master distillers create a symphony of flavors that enraptures whiskey connoisseurs' taste buds.
The Rosen Project: Whiskey Scientists at Work
The Rosen Project has gained a lot of attention and enthusiasm since it is a demonstration of Mammoth Distilling's commitment to innovation. This bold endeavor, which involved planting experimental rye seeds, intends to expand the bounds of handmade whiskey production.
The Rosen Project pays homage to the founder's mother, who inspired him to open a distillery, by honoring her name. Whiskey aficionados are waiting with bated breath for the outcome of these ground-breaking trials, and their suspense is building as the seeds germinate and the rye begins to grow.
Mammoth Distilling is dedicated to venturing into unexplored territory in the field of American craft whiskey, and their dedication is shown in The Rosen Project. It's proof positive that experimentation is essential to making high-quality whiskeys.
The 15-Year Rye Aged in Weller Barrels Is a Smashing Success
The 15-year rye that Mammoth Distilling aged and finished in a Weller barrel stood out as a masterpiece in the midst of the Rosen Project's high expectations. In June of 2022, Blind Barrels released a barrel choice that was well praised for leaving a lasting effect on drinkers' palates and hearts.
The well-aged rye whiskey took on the personality of the Weller barrel and was a smashing success as a result. Strong rye spice blended gracefully with the barrel's sweet and oaky aromas, producing a flavor profile that was a perfect reflection of Mammoth Distilling's expertise. For whiskey connoisseurs looking for a rare treat, the 15-year rye aged in a Weller barrel quickly rose to the top of the wish list.
The Barrel Club
In addition to producing high-quality spirits, Mammoth Distilling's Barrel Club has attracted a loyal fan base of whiskey aficionados. Joining this exclusive group grants you entry to rare products, invitations to exclusive events, and a personal connection to the distillery's unique process.
Members of the Whiskey Club at Mammoth enjoy a community atmosphere that promotes friendship and a love of fine American artisan whiskey. It's a one-of-a-kind chance to sample the distillery's newest creations, limited-edition releases, and the long-awaited fruits of the Rosen Project.
Mammoth Distilling is a paragon of excellence and originality in the world of American artisan whiskey. Their dedication to innovation is on full display in their novel method of acquiring aged Canadian rye and the buzz surrounding the Rosen Project.
As the Rosen Project develops and experimental rye is sown, hope and excitement for the future of Mammoth Distilling's craft grow brighter by the day. Their expertise in making great whiskeys that leave a lasting impression on the palates of whiskey fans was on full display in the success of their 15-year rye aged in a Weller barrel.
Mammoth Distilling marks its territory in the world of American artisan whiskey with a pioneering spirit of exploration, originality, and expertise, building a path of innovation and perfection that will be lauded by whiskey connoisseurs for generations to come.