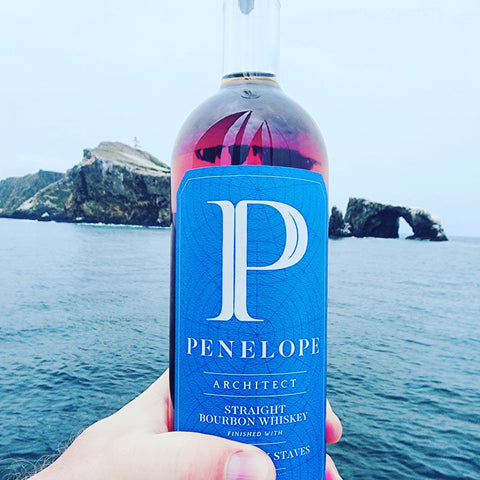 In the world of American craft whiskey, few stories are as captivating as that of Penelope Bourbon. Founded by the dynamic duo, Danny Polise and Michael Paladini, Penelope has rapidly emerged as a prominent player in the whiskey industry. Their recent expansion and a groundbreaking $105 million deal with MGP, along with a notable feature in Blind Barrels' exclusive tasting kit, showcase the remarkable journey of Penelope—a testament to friendship, craftsmanship, and a passion for creating exceptional American craft whiskey. This article delves into the intriguing narrative of Penelope and its founders, exploring their rise to fame, their whiskey subscription offerings, and the transformative deal with MGP.
The Genesis of Penelope Bourbon
The Penelope Bourbon saga begins with two close friends, Danny Polise and Michael Paladini, who shared a vision of crafting outstanding whiskey. Motivated by their daughters, Penelope and Riley, they embarked on a mission to create a whiskey brand that would embody their dedication to family, friendship, and unwavering commitment to quality. With a blend of their individual talents and shared passion for American craft whiskey, Danny and Michael set forth to turn their dream into reality.
Crafting Penelope Bourbon
Danny and Michael embarked on a relentless pursuit of creating a distinctive whiskey that would stand out amidst the saturated craft whiskey market. Tirelessly experimenting with different mashbills and aging techniques, they honed their recipe until they achieved perfection. The result was Penelope Bourbon—an exquisite blend that pays homage to the rich bourbon tradition while infusing it with a modern and unique twist.
Blind Barrels Feature: A Milestone Achievement
June 2022 marked a significant milestone for Penelope Bourbon when it was featured in Blind Barrels' exclusive tasting kit. Renowned for curating exceptional whiskey subscription kits, Blind Barrels caters to the most discerning whiskey enthusiasts. For Penelope, this feature wasn't just an opportunity to expand their reach but a resounding recognition of their unwavering commitment to crafting exceptional American craft whiskey.
The Blind Barrels tasting kit that highlighted Penelope Bourbon showcased an original mashbill specially crafted for their members. Subscribers were enchanted by its complexity, impeccable balance, and delightful fusion of flavors—an exclusive treat that only Penelope could deliver. The feature solidified Penelope's growing reputation in the craft whiskey community, propelling them forward as a rising star in the industry.
Penelope's Whiskey Subscription: Elevating the Experience
In keeping with the growing trend of whiskey subscriptions, Penelope offers its curated whiskey club, offering enthusiasts an elevated and exclusive whiskey experience. Penelope Whiskey Subscription members gain access to limited-edition releases, early product previews, and invitations to exclusive events. This personalized connection to the brand and its founders fosters a sense of community, making members an integral part of Penelope's remarkable journey.
Recent Expansion and a Transformative $105 Million Deal with MGP
Buoyed by the overwhelming response from consumers and the whiskey community, Penelope Bourbon has been on an exciting trajectory of expansion. Their meticulously crafted whiskeys are now accessible in an increasing number of states across the country, making their remarkable products available to a broader audience of fans and enthusiasts.
A pivotal moment in Penelope's journey came with the groundbreaking $105 million deal with MGP—a leading distilled spirits producer with a storied legacy. The deal grants Penelope access to the finest aged whiskey stocks and exceptional production facilities, empowering them to broaden their reach and maintain the highest quality standards. This transformative partnership exemplifies Penelope's commitment to elevating their craft while staying true to their founding principles, propelling them to new heights in the industry.
The captivating tale of Penelope Bourbon is a celebration of friendship, dedication, and an unwavering quest for excellence. Founded by Danny Polise and Michael Paladini, this American craft whiskey brand has garnered the hearts of whiskey enthusiasts nationwide. Their recent feature in Blind Barrels' exclusive tasting kit, coupled with the introduction of their whiskey subscription program, showcase Penelope's rise to prominence. The groundbreaking $105 million deal with MGP cements their position as an industry trailblazer, poised for even greater success. As Penelope Bourbon continues to expand its horizons while remaining grounded in its values, it serves as a shining exemplar of the power of friendship, craftsmanship, and an unwavering passion for creating exceptional American craft whiskey.