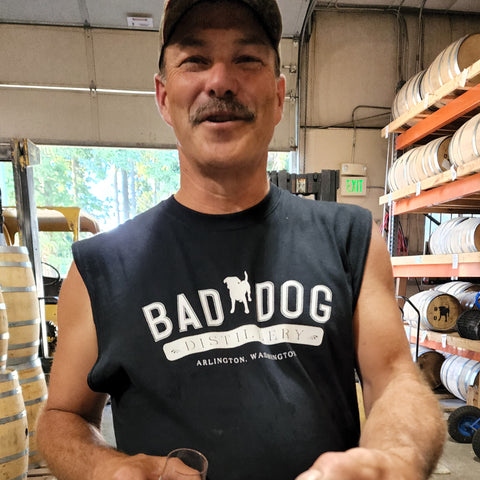 Nestled in the heart of Arlington, Washington, is an unassuming establishment that has been quietly making delicious spirits for over a decade, with a narrative as unique as the tastes it creates. The husband-and-wife team of Dave and Shelly McGlothern founded Bad Dog Distillery, which not only boasts a rich past but also an uncompromising devotion to making spirits that transcend the ordinary.

Dave McGlothern's Whiskey Expedition: A Story of Unwavering Passion

Every great journey begins with a humble beginning, and the Bad Dog Distillery story is no exception. The venture's visionary, Dave McGlothern, began his research of the technique of distillation at an impressively young age. Dave set out on the route that would eventually lead to the formation of Bad Dog Distillery when he was just 12 years old.

Dave took the jump to turn his childhood curiosity into a professional business legally some years later, armed with his expertise and experience. The establishment of Bad Dog Distillery was more than just the realization of Dave's dreams; it was the culmination of his unwavering drive to improving the art of distilling spirits.

An Emotional Thread: Bad Dog Distillery's Canine Connection

Every great story contains an element of personal meaning, an anchor that grounds the story in the artists' lives. This factor takes the form of a cherished family pet in the instance of Dave and Shelly McGlothern. The distillery's name pays respect to this loyal companion, expressing the spirit of companionship that characterizes Bad Dog Distillery's journey.

Navy Origins: The Evolution of a Nautical Souvenir

Dave McGlothern's service in the United States Navy influenced his career path in distillation even further. The metamorphosis of a basic soup kettle from Dave's naval service into a vital component of the distillation apparatus exemplifies the distillery's inventive spirit. This transformation, a synthesis of history and innovation, exemplifies the creative approach that defines Bad Dog Distillery's identity.

Crafting Excellence: The Essence of Bad Dog Distillery

Bad Dog Distillery's attraction stems from its unwavering dedication to creating unrivaled beverages. Dave McGlothern's unwavering pursuit of excellence can be seen in every aspect of the distillation process, from obtaining the best ingredients to using time-honored procedures. Each batch is a work of art, resulting in spirits that capture the distiller's mastery as well as the soul of the Pacific Northwest region.

Bad Dog's Acclaimed Single Barrel Bourbon, The Magnum Opus

Among the many feathers in the distillery's cap, the Single Barrel bourbon has received widespread appreciation. This expertly distilled and aged elixir gained center stage when it appeared prominently on Blind Barrels' September 2022 lineup. The Blind Barrels whiskey club's whiskey enthusiasts were quick to notice Bad Dog's Single Barrel bourbon's unrivaled quality and distinct character. Its complex taste profile and silky finish immediately made it the preferred option among the club's sophisticated palates.

A Peek Into the Future

As Bad Dog Distillery continues to carve its name in the annals of distilling, it serves as a source of inspiration for budding distillers and fine spirits connoisseurs alike. The balance between preserving tradition and embracing innovation reflects Dave and Shelly McGlothern's passion for their profession as well as the remembrance of their beloved four-legged companion.

The Bad Dog Distillery in Arlington, Washington, is a living testament to the transformative power of passion, history, and ingenuity. Dave and Shelly McGlothern's journey, from Dave's childhood passion with the craft to the founding of a prestigious distillery, is one that connects with patrons who value workmanship and authenticity. Bad Dog Distillery has established itself as a respected force in the world of artisanal spirits thanks to its unwavering pursuit of quality and unique approach to distilling. With each taste of their unique creations, fans are reminded that every triumph is accompanied by a narrative worth remembering and sharing.