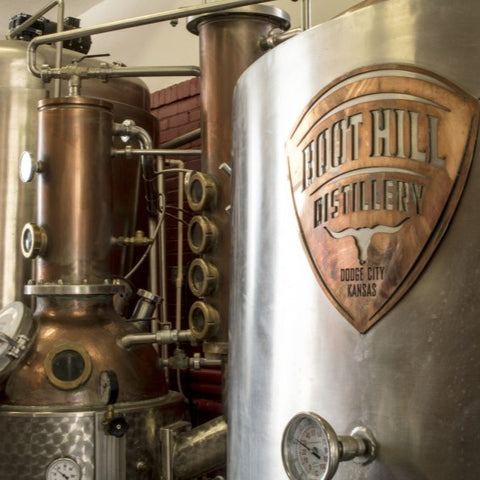 You might not immediately think of the Kansas Whiskey Trail when you think of American handmade whiskey. Even so, this often-overlooked area is rapidly becoming a major player in the booze industry and providing whiskey fans with a fascinating new frontier to explore. Kansas has become a center for the production of unique and excellent whiskeys due to the proliferation of craft distillers there. This article takes readers on a tour of the Kansas Whiskey Trail, where they will learn about the region's fascinating past, the craft distilleries that are influencing Kansas's future, and the excellent American artisan whiskeys produced there.
Kansas' Emerging Craft Whiskey Scene
Kansas has emerged as a leading producer of craft whiskey as this trend has swept the country. Distilleries can thrive in the state because of its favorable conditions for grain production and its emphasis on traditional craftsmanship. The Kansas Whiskey Trail has come to represent the state's dedication to making whiskey of the same caliber as that produced in more well-known whiskey-making locations.
Kansas Whiskey Trail Craft DistilleriesThe Union Horse Distilling Company
in Lenexa, Kansas, was one of the first craft distilleries in the state. From their flagship Reserve Straight Bourbon to their Rolling Standard Rye Whiskey, they provide a wide variety of styles in their collection of American handmade whiskey. Each whiskey is made with care, from grains sourced in the area and distilled in the traditional fashion to create smooth and tasty liquor.
Wichita, Kansas'
Wheat State Distilling
is well lauded for producing only the finest whiskeys from grains cultivated in the state. Their Kansas Bourbon, which captures the essence of the state's agricultural past with its smooth and sweet flavor, has won widespread acclaim. In addition, its Kansas Straight Rye has a pleasant peppery kick that wins over even the pickiest whiskey drinkers.
Boot Hill Distillery
was inspired by the rich heritage of Dodge City, Kansas, Boot Hill Distillery crafts unique and flavorful whiskeys. Made from one hundred percent malted barley, their Double Malt Whiskey is a standout among their American artisan whiskeys for its distinctive take on classic bourbon characteristics.
Norsemen Distillery
is a whiskey producer in Osage City, Kansas, that has received a lot of attention for its unique methods. Their well aged Kansas Bourbon exemplifies both the state's fertile soil and the distillery's commitment to quality. Norsemen's dedication to experimenting has resulted in fascinating limited-edition releases, which have surprised and delighted whiskey connoisseurs.
Kansas Whiskey Trail: A Culinary Adventure
The Kansas Whiskey Trail is a great way to sample the unique spirits produced by the state's distilleries. Each whiskey has its own narrative to tell, from smooth bourbons with hints of caramel and vanilla to fiery ryes with a kick. Visitors can learn more about the art that goes into making American handmade whiskey by taking advantage of the trail's many distilleries' tours and tastings.
A Celebration of Handmade American Whiskey
The growing popularity of the Kansas Whiskey Trail is a testament to the dedication to quality, ingenuity, and originality that characterizes American artisan whiskey. There is a growing sense of brotherhood and community among whiskey drinkers thanks to the efforts of Kansas' craft distillers. The path provides a personal setting in which to learn about the process of making wine and to appreciate the dedication that goes into each bottle.
The Kansas Whiskey Trail is a fascinating exploration of American craft whiskey that defies convention by showing that high-quality spirits may be produced outside of the usual whiskey-producing regions. This trend is being led by distilleries like Union Horse Distilling, Wheat State Distilling, Boot Hill Distillery, and Norsemen Distillery, who are exhibiting the wide range of flavors that can be created using expert workmanship and regional ingredients. The Kansas Whiskey Trail is a living tribute to the enduring history of American craft whiskey, and its growth encourages whiskey aficionados to explore this hidden gem.