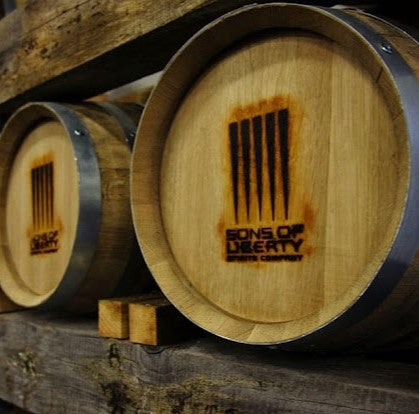 Experience a fascinating journey into the world of craft spirits as we visit some of Rhode Island's lesser-known whiskey distilleries. As a new phenomena in the world of American craft whiskey, the Rhode Island Whiskey Trail urges us to discover its hidden gems. Come along on our journey as we discover the skill and originality that defines this path.

Creating a Whiskey Trail in Rhode Island

The Rhode Island Whiskey Trail has arisen as an up-close-and-personal experience for whiskey aficionados, with a strong emphasis on promoting the state's distinctive whiskey culture and the many traditions of artisan distilleries. This charming route brings tourists close to face with the creativity of distillers, a unique experience that can't be had on the big whiskey trails in larger states.

Rhode Island's Undiscovered Whiskey Producers

Sons of Liberty Spirits Company
As an industry trailblazer in Rhode Island, Sons of Liberty Spirits Company isn't afraid to try new things by using unusual grains like quinoa and buckwheat in its homemade whiskey. The end result is American craft whiskeys that have won multiple awards and continue to astound connoisseurs.

Newport Craft Brewing and Distilling Co.
Since it was the first Rhode Island distillery to receive a license after Prohibition ended, Newport Craft Brewing and Distilling Co. has produced craft whiskeys that capture the spirit of the Ocean State. Their spirits have a particular flavor thanks to the artisanal methods used in distillation and aging.

Appalachian Moonshine Distillery
Using time-honored methods, this distillery creates a delicious variety of moonshines and whiskeys that add a touch of Appalachian charm to Rhode Island. Each taste captures the adventurous spirit of those who are willing to travel to this faraway land.

The White Dog Distillery
The White Dog Distillery, which prides itself on preserving tradition, produces a wide range of superb whiskeys using only the finest ingredients gathered from the surrounding area.

Adventures Along Rhode Island's Whiskey Trail
The Rhode Island Whiskey Trail is an excellent way to learn about the history and production of American handmade whiskey. Many distilleries welcome visitors and teach them about the craft of making spirits and maturing them in charred oak barrels.

The path also highlights the friendly atmosphere created by Rhode Island's craft distillers and their tight-knit community.


The Rhode Island Whiskey Trail: Where Old and New Meet.

The Rhode Island Whiskey Trail is unique because of the way it combines awe for history with a willingness to try new things. Traditional methods are upheld while new frontiers are explored as distilleries create unique flavors that engage the senses and defy expectations.

The craft whiskey trail in Rhode Island has an inviting blend of history and modernity that is part of its magnetic appeal. The lesser-known Rhode Island distilleries have the potential to leave an indelible mark on the world of American craft whiskey thanks to the artisanal skill at each distillery and the appeal of each individual bottle.