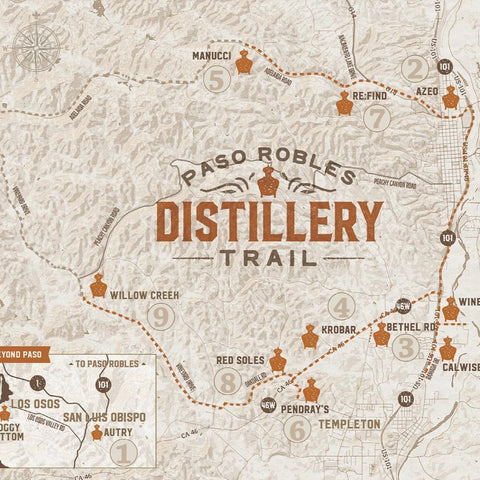 Paso Robles, a gorgeous location in the center of California's Central Coast, is well-known for its vibrant wine industry. However, the Paso Robles Whiskey Trail is a hidden gem that has been making waves in recent years. Exceptional distilleries that are changing the face of American artisan whiskey may be found along this route, which is itself a representation of the region's commitment to craftsmanship and creativity.
A Culinary Canvas: Distilleries of Distinction
There is a wide variety of distilleries in Paso Robles, each contributing its own story to the storied history of American handmade whiskey. Because of Steve Kroener's prior experience in the wine business, Krobar Craft Distillery stands out as an exceptional example of craft distilling. Krobar's whiskey barrels take on an artistic perfection because to his knowledge of the nuances of wood treatment gained via his background in winemaking.
Re:Find Distillery is another bright spot on the horizon; its proprietors, Alex and Monica Villicana, live a fascinating double life as whiskey distillers and vintners. Re:Find creates a premium rye whiskey that celebrates both wine and whiskey cultures by fusing their respective expertise. Their rye's high quality and the trail's rising profile led to it being included in Blind Barrels' September 2022 selection.
Collaboration and Synergy: Wine and Whiskey Unite
Paso Robles's Firestone Walker brewery has partnered with local distillers to create a whiskey that complements the region's wine. Mash, an essential ingredient in manufacturing whiskey, is supplied by the brewery to the distillery. Paso Robles is known for its collaborative culture, and this relationship between distillers and brewers is a prime example of that.
True masters of their craft, the Villacanas are a shining example of this symbiotic relationship. Spirits are skillfully distilled at Re:Find Distillery using grape pomace, a waste product of the winemaking process. Their dedication to environmental responsibility and inventiveness has resulted in whiskey of exceptional quality and shown that the values of wine country can be applied successfully to the spirit industry.
Rod & Hammer's SLO Stills is just one more cutting-edge twist in the tale. Their eco-friendly whiskey is a reflection of their passion to both their art and the preservation of the natural world.
Blind Barrels: A Testament to Excellence
The inclusion of the Paso Robles Whiskey Trail on the whiskey subscription platform of Blind Barrels only serves to further solidify the trail's already stellar reputation. The rye from Re:Find Distillery and the cask strength bourbon from Krobar Craft Distillery were two of the highlights of Blind Barrels' list. These bottles are excellent examples of the high quality of whiskey that can be made in Paso Robles, further establishing the city's reputation as a leader in the American handmade whiskey scene.
With the Paso Robles Whiskey Trail, the worlds of wine and whiskey making come together in a compelling story. With distillers learning from their winemaking counterparts and working together across sectors, Paso Robles has become a hotbed of originality and progress. Wine country can truly produce amazing and unforgettable spirits, as evidenced by the Paso Robles Whiskey Trail, where rye and bourbon are released from barrels created with the precision of a vintner.